IDEATION
This publication began with my love for travel. I've always had a knack for getting out of town, exploring new areas and meeting new people. As life went on my time with school really cut back this time for travel. I found that I still managed to get out and explore but my trips tended to be much shorter and closer to home. With this in mind I began investigating what was out there. In my research I realized that there were in fact many travel print magazines. But, the articles were

centered around trips to China, sailing yachts out of Newport beach and romantic getaways to Paris. None of these magazines or articles spoke to the cheap and gritty means of travel which I tend to get into. With all this in mind I decided to create a magazine for a younger demographic (18-28) who don't have much time or money but appreciate every minute of jumping in a van full of friends or couch camping at their friend's house for the weekend.

FORMAT


Considering the young demographic, this publication lives primarily on the world wide web. It is laid out in a horizontal manner to mimic the panoramas found in nature and the open road. Going the digital route allowed for alternative forms of content such as live maps, video and audio (field recordings and music).

Also, this interactive platform allows opportunity for exploration and hidden details. Sprinkled throughout Daytripper are small icons (inspired by hobocode) which links to hidden pop up features such as recipes, maps and audio tracks. These details are a represntation of the exploring aspect of travel.

CONTENT
The content of Daytripper was not meant to be over the top, once in a lifetime experiences. The content has been curated from humble people who simply love adventure and exploration, not necessarily proffesional

writers or photographers. The publication has four recurring content themes which come together in the from notebook entries, photo/video essays, audio recordings and old book excerpts.

IMAGERY EXPLORATION
Initial design concepts were centered around the idea of using your hands to create which brings beautiful imperfections that arise because of it. Many of the experiments also bridged a line between nature and design.
TYPOGRAPHY EXPLORATION
Body copy typography explorations were inspired by old books, with clean serif typefaces and expressive dropcaps. However, I wanted the titles to take on a more expressive and modern/tech feel to them to express the nature of the publication (classic travel/modern travelers).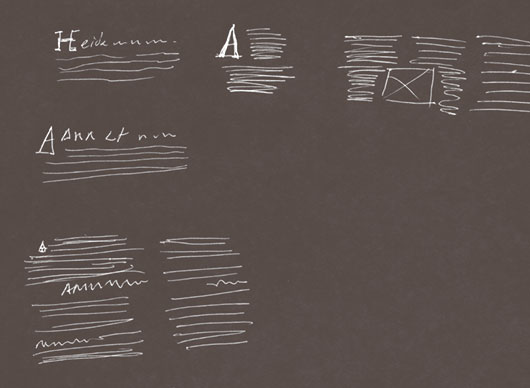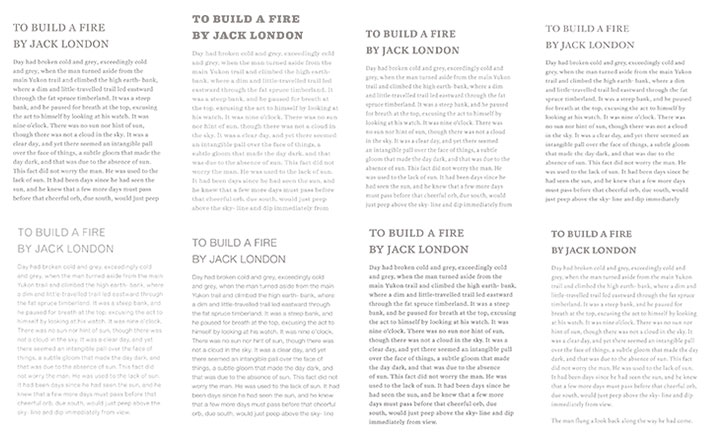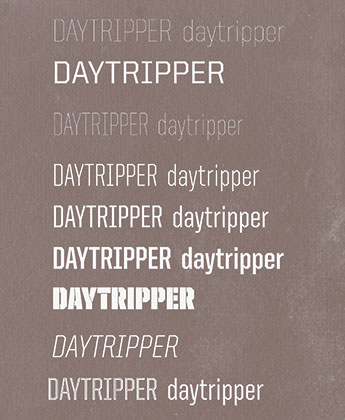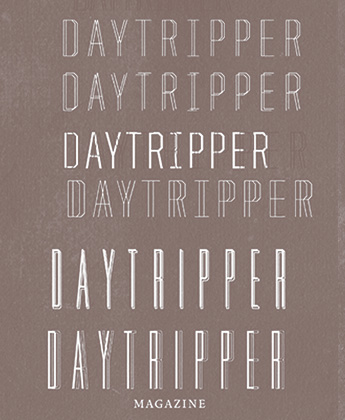 LAYOUT EXPLORATION
The format of Daytripper is laid out horizontaly where users can click through as spreads or scroll through freely.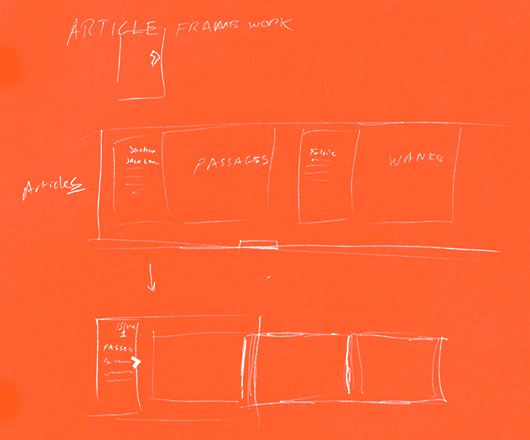 FINAL DESIGN
The design of Daytripper is centered around the tension of old and new. The screen based format is a representation of the young tech savy generation (readers and contributors) and the body typography, old paper tectures represent the classic vibes of travel. Opening spreads were created with the use of old magazine spreads collaged together digitaly imposed with a techy san serif headline face. Daytripper's homepage features a cover and table of contents

allowing the user to jump into the magazine (past cover issues can be accessed by scrolling/clicking right. Each issue has 4 content themes which feature a opening spread with an old image of a possible daytripper and content credits. Moving right one will find text/imgs/
photos/maps and even some hidden features called hobocodes. The last spread of each article displays a hyperlinked table of contents to jump to the next article or any of the other articles in the issue.

FINAL PROTOTYPE
CREDITS